Halfway through
Sharknado
last night, the fire alarm went off. Before realizing that it was just wanting a new battery, I was halfway to the door and reaching for an umbrella. Because outside it was RAINING SHARKS.
Y'all, if you didn't see
Sharknado
last night, I weep for you.
I know one of the hallmarks of Syfy's creature features is that they don't wink and nod to their ridiculousness; the actors usually appear (to the best of their ... limited ability) to be playing it straight. But last night, we got this from one of the main characters, Nova: "We're gonna need a bigger chopper." At the time, she and Ian Ziering's son were piloting a helicopter filled with homemade bombs toward a tornado menacing downtown LA with SHARKS SUCKED UP FROM THE SEA. You tell me she didn't know what's up. Earlier, the "H" from the Hollywood sign had taken out a school-bus driver in the middle of his rant about having failed as an actor. Hollywood got him in the end -- get it?
I think that was what I loved best about
Sharknado
. It may not be the most ludicrous plotline Syfy has ever dreamed up (
Mansquito
anyone?), but it was certainly the most fun the network has had with its image. From the grainy film ("film"?) quality to the human-hungry sharks bursting up out of manholes to the CGI-ed sharknadoes themselves, it seemed like the filmmakers, and the good people at Syfy, were having a blast, not only completely aware of the absurdity of the plot but reveling in it.
I mean, they sent Tara Reid into a liquor store for survival supplies.
It was such a perfect storm of genius insanity and marketing, too. Twitter collectively lost its shit last night at 9:00; everyone from Mia Farrow to Katherine Sebelius weighed in (hey, Sharknado injured: Obamacare's got you), and the LAFD reassured us all that they have a Sharknado contingency plan. During the movie, #Sharknado tweets were flying at 5,000
per minute
.
And then at the end, just when you thought it could not get more awesome, this happened: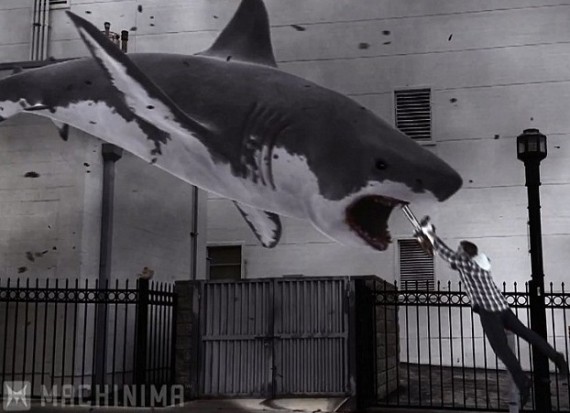 CHAINSAW-WIELDING STEVE SANDERS PLUNGED INTO THE JAWS OF A SHARK.
YES. That actually happened. I will leave it to you to imagine the rest. Or to wait for the sequel, because as Craig Engler tweeted earlier today, they're already in talks.
I cannot wait.
PS -- Syfy is re-airing this masterpiece next Thursday, July 18, at 7:00. Do not miss it.