Did you catch CW's "limited series event" Containment? No? Hooray! The US public health system works!
Seriously, if you've been fortunate enough to avoid infection with this particular bug, you can count yourself lucky. For reasons surpassing my own understanding, I've been watching it since it began back in April and as it sputters and spasms into the final stretch, coughing, wheezing, and bleeding from its various orifices along the way, I'm here to tell you about the experience.
The first sign of infection is Resting Bitch Face
First, a crucial question: Have you seen the movie Outbreak? How about The Andromeda Strain? Maybe Cabin Fever? Any of these? Yes? Congrats! You've already seen everything that you could possibly see in Containment. You have met your quota for disease outbreak contrivances. Please feel free to take a break and maybe watch a rom-com. If you answered no to any of those, get thee to Netflix and enjoy. There is a world of better viewing options if what you want to see is characters wrestling with an invisible antagonist that turns their own bodies against them, a healthy dose of gory body horror, and the requisite slow, creeping paranoia that attends both.
In the meantime, here's what you need to know about the premise of Containment: After a highly virulent strain of bird flu breaks out in inner city Atlanta, the CDC and a particularly unbelievable government official from the US Department of Homeland Security decide the only way to prevent the disease from becoming a global threat is to literally barricade the downtown core of the city with freight cars stacked on each other and lock in any potential infected until a treatment or cure can be devised. What follows is the usual mix of relationships torn asunder, new relationships forged, people acting like post-apocalyptic asshats, and, of course, blood and coughing. Lots and lots of blood and coughing.
"Hey Bob. Another day at the office in the quarantine zone, amirite? I hear ya, I hear ya."
The characters resemble a paint-by-numbers book: There's One Good Cop who is on the outside of the cordon and just trying to do right by the people inside. His Strong Female Character sorta fiancé is only inside the cordon because she decided to go to work instead of agree to move her stuff into his apartment because she has Commitment Issues. There's Innocent Pregnant Teenager, her Initially Evil But Really Loves Her mother, and her Earnest But Misunderstood Inner City Baby Daddy who just wants to be a good father so he actually breaks into the cordon. Attempting to carry the emotional core of the show is Tougher Than She Looks Schoolteacher, who is trapped with her elementary school class inside the cordon on the world's worst field trip. Tougher Than She Looks Schoolteacher has a meet cute thing going with Trying To Learn About Responsibility Police Officer who has been a slacker most of his life but is being forced into adulthood by virtue of being one of the only armed members of law enforcement trapped inside the cordon. And, of course, overseeing all of this is Nice But Possibly Shady Doctor who is inside the cordon and may know more than he seems to (spoilers: he does) and his counterpart Morally Ambiguous Government Official Who Operates With Impunity and Never Checks in with Anyone Higher Up. Said official is the one to make the decision to lock in tens of thousands of people to potentially die horrible deaths.
Any TV Sluts readers live in Atlanta? Find out if you are in the infection zone!
The Incurable Cough of Death
is an uncredited character, though really should have top billing by number of appearances alone. Second billing should go to White Handkerchief/White T-Shirt, which all characters must have on them in order to make that first bloody cough really pop.
Clearly, I don't think highly of Containment. On technical merits, it's really not that bad. It's competently filmed and looks slick. The acting is, well, not great but far from the worst I've ever seen. It's just not greater than the sum of its parts, which is a quality a show needs to have, particularly if it's treading on very familiar ground. The show unfortunately commits the one error a show is never supposed to make, the cardinal sin of television: it's boring. Despite a legitimately strong first episode, the overall pacing of the next 10 installments is sluggish at best. Much like the infected characters that start piling up on the screen, the show limps around, gradually getting less and less lifelike. (Sorry, btw: It's literally impossible to write this review without overly relying on cheap medical puns.)
It didn't really have to be that way. In its first episode, Containment generates more excitement and more dread than all of Fear the Walking Dead did in the entire first season. I mean, come on! It's a viral outbreak! That just lends itself to drama. Unfortunately, the few times the show gets interesting it's only interesting because of characters making decisions that are SO OBVIOUSLY bad ones, you find yourself riled up at the lunacy of people acting how no human, driven by fear or otherwise, would act. It's not until episode 10 that any real action begins to happen again. Watching the meandering plotlines and characters moving around without any direction only to begin to finally come together in the end made me wonder why the show couldn't have just been three or four episodes, which likely would have served it better.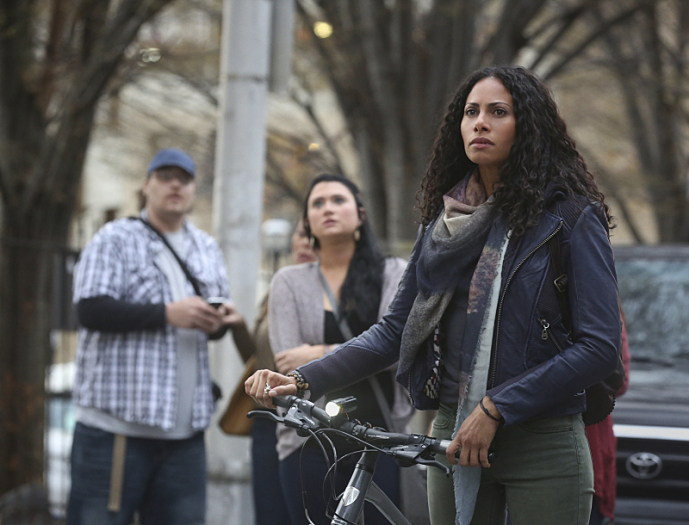 My reaction when I was on episode four and realized I still had eight more to go.
If, after all this, you're still game for binging on the series, it wraps up its final episode next week. Back episodes are available from the CW. Mercifully, this disease is one that we can all get into remission from as the network has already announced that there will be no second season and the storyline will wrap up at the end of its current plot. Apparently the network had hoped that Containment could take advantage of the trend toward anthology shows, presenting either a different outbreak or a story of different people should a second season have occurred. Given that the first exposure was so ill-serving, it's best to just let this patient go peacefully.